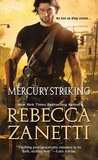 Mercury Striking
by
Rebecca Zanetti
My rating:
5 of 5 stars
**I received an e-copy of this book from NetGalley in exchange for an honest review.**
---------------------------------------
Having read the On The Hunt anthology, I had a previous taste of this story in the prequel novella, Scorpius Rising. And, call me naive, but I didn't actually realize this was the same series until I was about 10% through the book!
This book is a little outside my "normal" genre realm, but still appealed with the post-apocalyptic setting and alien virus issue. Jax Mercury & Lynne Harmony are strong protagonists with a terrific dynamic. Surrounded by many multi-faceted characters - several of whom I can see future books about in this series - and several of whom, unfortunately, you won't.
This is a fast-paced story with violence, death. love, and regrets a-plenty. What would happen if suddenly 90% of the world's population was either dead or insane after catching an alien virus? This book will give a detailed idea of this author's take! I could easily see this being a movie along the lines of the Resident Evil series.
Rebecca has created a well-though out and detailed world in this book, and I can't wait to "see" the rest of the series!
View all my reviews