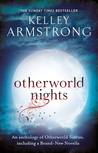 Otherworld Nights
by
Kelley Armstrong
My rating:
4 of 5 stars
*I received an ARC in exchange for an honest review*
-----------------------------------------------------------------
I am a new-comer to Kelley's Otherworld series. I've heard of it - and even have it in my (extremely large) TBR list - but, had not yet managed read any of it. After reading this compilation of short stories it has definitely moved up the list! I do think this would have been a faster read if I'd known the world prior to reading these stories.
I want to know more about Elena & Clay, and how she came to forgive him for taking the choice to change out of her hands. I'd like to know what has shaped their twins into the precocious little kids that they are. (I also can't wait to see how they turn into adults, but I don't think that's in the works as yet!) You get to spend Elena & Clay's honeymoon and a very special Christmas with them. You also meet several other members of their Pack, and get the background story on why Reese has the issues he does.
You meet Adam as a young boy who doesn't know why he has the powers he has, and then meet up with him again as an adult who is trying to come to terms with his relationship with Savannah, a witch who is trying to figure out what she wants out of life.
I also want to know how all of the characters came to know each other as they aren't all of one paranormal subset. (The overwhelming portion of this anthology is devoted to the werewolves, but there are also several short stories about half-demons.)
I don't want to give any spoilers so I will leave it at that.
View all my reviews